Eclectic originals, mixed with jazz standards, blues classics, and quirky covers
Our sultry sound is rooted in the classic jazz trios and vocalists of the 1950s and 60s, updated with modern funky grooves, catchy melodies, and soulful lyrics.  
Check out our most recent recording, Such Sweet Recompense (2022), with four original tunes and special guest artist on the B-3 organ and electric piano, Joe Doria.  Our debut album, So Little Has Been Tried (2017), focuses on our original tunes.  It is now available for download on CD Baby, Amazon, and other online retailers. You can stream our albums on Spotify, Pandora, YouTube, and others.  Physical CDs are available at shows. 
Catch us live at venues all over Seattle, including The Pink Door, The Musicquarium Lounge at the Triple Door, Perihelion Brewery, and the Tasting Room at Pike Place Market.  Check out our calendar page for upcoming shows.  We are also available for private events and house concerts--send an email inquiry to find out more.

Sing Low, Indigo is:

Glen VanDerPloeg:  Guitar, songwriter
Heidi Matthews:  Vocals
Will Stump:  Upright Bass
Mark Drake:  Drums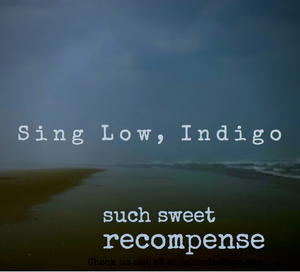 Background photo of Heidi courtesy of Travis Hartnett.
Portrait of Heidi courtesy of Focal Point Media.
Performance shots of Glen and Wayne courtesy of Travis Hartnett.